The State of Iowa has released a report on proposed renovation of the State Historical Building in Des Moines.  Prepared by Neumann Monson Architects, the report proposes demolishing half of the existing building and completely renovating the remaining structure in order to "right size" the facility for long term sustainability.  Download the REPORT by clicking on the image below.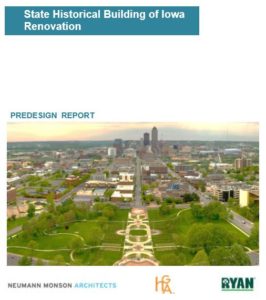 The State Historical Building of Iowa (SHB), located on the Capitol Complex in Des Moines, is home to the Iowa Department of Cultural Affairs (DCA). The department is comprised of the Iowa Arts Council, Produce Iowa: State Office of Media Production (formerly the film office) and the State Historical Society of Iowa (which includes the State Historical Museum of Iowa, State Historical Research Centers, eight State Historic Sites and the State Historic Preservation Office). In addition to serving as the operational hub for the DCA, the most important role and function of the building is as the state's flagship museum – a repository for 209 million pieces of Iowa's history and a public institution serving all Iowans.

The current State Historical Building is at a critical juncture. The building and its systems no longer serve the needs of the DCA or its primary function as the state's flagship museum. The department's ability to serve as a cultural institution is in jeopardy due to building flaws, maintenance and oversized structure. Over the past three years, the DCA has undergone a thorough planning process to determine a renovation solution that will not only address the existing building issues but better enable the museum to preserve the collection, be the educational resource for Iowa history and connect Iowans to the people, places and points of pride that define our state.

PROJECT DESCRIPTION

The proposed solution for the State Historical Building Renovation will maximize the reuse of the existing infrastructure, while right-sizing the building to a square footage that is more manageable for the department within its given operating budget. The west portion of the building will be renovated to accommodate exhibit galleries, classrooms, collection storage and office functions, while the east portion of the building will be removed to create a new outdoor public space and allow for sightlines with spectacular views of the state Capitol. Programmatic functions currently on the east side will be moved to the west side, creating a better defined visitor experience and more efficient staff operations. The existing building is underutilized and therefore oversized at 234,000 square feet; the new plan at 155,000 square feet will be more functional, flexible and adaptable for the future.