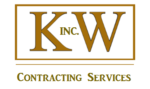 KW Inc. was recently formed to provide customers with top quality construction services. Our team offers over 50 years of experience in project development and construction related services.
We offer a broad range of expertise and experience. We offer services in tuck pointing, timber work, windows, finish carpentry, and general contracting. Our business also deconstructs and moves historic timber structures and reassembles those structures. Our reference list is filled with work completed on Barn Restoration and Brick and Timber structures.

We specialize in the restoration and weatherization of historic wood windows.