An Exhibit of Images Since 1879
Posted on August 24th, 2012 8:36 am
Presented by the North of Grand Neighborhood Association
Sept. 3rd through Sept. 28th
Scottish Rite Park Art Gallery, located at 2909 Woodland Avenue
Public hours: Weekdays, 8 a.m.-4:30 p.m.
The North of Grand Neighborhood is researching the people, infrastructure, businesses and churches of this part of early Des Moines (between 31st and 42nd, and I-235 and Grand Avenue). Several individual structures near Scottish Rite Park are listed on the National Register, such as Terrace Hill and Smouse Opportunity School, in addition to blocks of homes in the nearby Middlesex Plat and Woodland Place National Historic Districts. The State Historic Preservation Office recently determined the Greenwood Park Plats Historic District (39th-42nd St. and Grand Ave. to I-235) as eligible to the National Register of Historic Places.
Listing on the National Register honors our past while welcoming the area's future as part of a dynamic, mixed-use neighborhood of Des Moines. Historically-rich neighborhoods encourage residents to take pride in where they live. This safe, affordable, tree-lined area is a desirable part of Des Moines due to its close proximity to shops, restaurants, the bus line, well-established churches, quality schools and historic architecture. We welcome your comments and feedback. Thank you for your support!
Acknowledgments: This project is a collaborative effort undertaken by the North of Grand Neighborhood Association and the Community Development Department at the City of Des Moines, and supported in part by the State Historical Society of Iowa, Historical Resource Development Program; Polk County; Drake University; private donations and volunteer resources. Thanks for supporting (we proudly believe) one of the most attractive, mixed-use neighborhoods in Iowa.
Please visit our Facebook page, North of Grand DSM.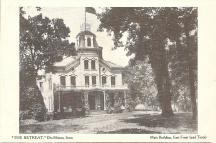 Postcard of "The Retreat" (from the collection of Karen Hanley)