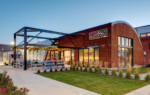 Long Business Description
Slingshot Architecture is recognized for historic preservation and rehabilitation work across Iowa. While many of our projects have won historic preservation awards, the true impact of work on older buildings is reconnecting people to places that matter. Our buildings and public spaces tell the story of who we are, where we came from, and where we want to go.
-
We are a PURPOSE-driven Firm. Our personal relationships with clients allow us to provide meaningful design solutions + personalized service. We do not have a specific style or pre-determined aesthetic vision for our work because our work is specific to each client, place, time + budget. Instead, we place make, searching for purposeful project + site-based solutions.
-
We are a PROCESS-driven Firm. We begin each project with our Pullback Phase, in which we assemble information that will inform our design solutions. We gather a client's goals, facts, concepts + needs. Then we research historical precedents, analyzing the site, existing building + space diagrams. Once we define the project parameters + establish the vision, we burst forward with momentum + execute our project with maximum impact for our client.
We boldly engage community so that people + place transform.