Architect (Commercial & Large Projects)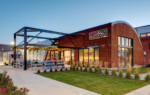 Slingshot Architecture is recognized for historic preservation and rehabilitation work across Iowa. While many of our projects have won historic preservation awards, the true impact of work on older buildings is reconnecting people to places that matter. Our buildings and public spaces tell the story of who we are, where we came from, and where we want to go.
Substance is a collaborative design practice established in Des Moines, Iowa in 2005. The firm brings together the talent and expertise of some of the region's most recognized design professionals engaged in the disciplines of Architecture, Interior Architecture, and Design.